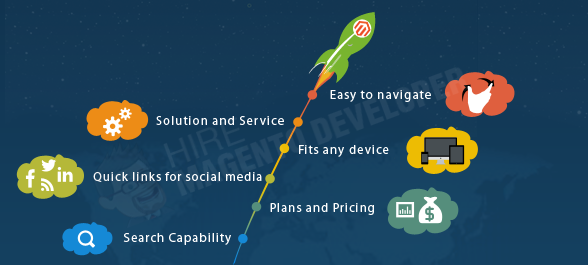 Hiremagentodeveloper invites all visitors and clients to be a part of its memorable achievement, as it launches its redesigned website "Hiremagentodeveloper.com", with increased transparency and accurate information. Via complete overhaul of its front-end design, the company has produced an easy-to-navigate website that is organized perfectly with its new Magento services by utilizing current web technologies for its client's welfare. This is the first major makeover since its inception.
The main objective behind the new design was to make the website more serviceable, spontaneous, and interesting for site visitors and clients. In addition, the site has been modernized to latest features, new professional mascot and other branding factors that are freshly integrated within the website. One thing is for sure that the transformation of the website is enough to leave you speechless and totally amazed.
New Attraction of this magento website includes
Clean, fresh look with easy-to-navigate layout
Streamlined solution and service offerings
Fits any device of any size
Quick links for social media
Defined plans and pricing
Amazing search capability
Mr. MAGENTO GUIDES YOU WITH BEST ECOMMERCE SOLUTION
The Mr. Magento mascot resembles eagerness of Magento developers and designers at Hire Magento Developer, to create the solutions that outgrow the ordinary solutions offered by others. By including new features and animations, we have made an attempt to provide our clients a bigger picture about, what we do and how we do at Hiremagentodeveloper. The Website is restored with many amazing features, designing elements and stylish navigation that can't be counted on the finger tips.
Pick your Plan at affordable Prices and lots More…
By introducing an innovative module of plans and pricing, we have defined a brand new path by which we undertake your Magento project and develop it in lesser time with minimum efforts. Along with two pre plans for Magento services, we have also provided our visitors and customers an alternative of custom plan to meet their demanding requirements. Both the service plans are strategically defined after making a thorough survey in the Magento development market.
From now onwards there are no barriers of the screen size; as you can visit Hiremagentodeveloper on desktops, laptops, tablets and smartphones without missing any key information. We have added a responsive characteristic to our website. We always opt for technical perfection in our every project, and as a result of which, we have developed this website with open style layout based on hottest web technology of the time i.e. HTML5 and CSS in 960 grids.
In the era of critical eCommerce and mCommerce world, our newly designed website represents our growing strength. Fresh looks of the website accompanied with latest services will help us monitors, organizes and offers Magento development services to our global clientele in highly polished way.
If you need helps for More information, get in touch with us now !!