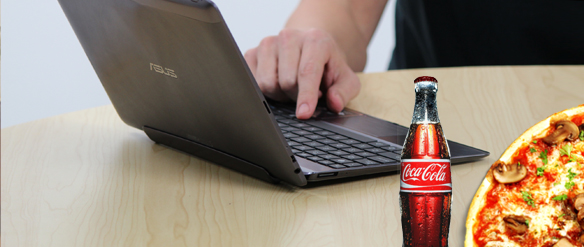 Elevated competition and new customer trends are among the main challenges facing the food and beverage industry.
While these challenges pose a threat to some companies they can be an augmentation opportunity for others. In response to these recent challenges, food companies are developing competition by reorganizing and growing the tussle for market share along with vast online omnipresence for its prospective customers.
In this emerging e-commerce vista, the companies that are burgeoning most are the ones who best understand their consumers and potential customers, continually monitoring feedback, analyzing sales data and updating their products and services accordingly. The company that manages to make that connection with its buyers is rewarded with a complete relationship than customary, typical bricks-and-mortar retailers ever did.
Key findings of several recent surveys denote that Ecommerce for retailer & Ecommerce for Food & Beverage companies will pump millions of money in forthcoming years.
The Numeral Representation Of Ecommerce For Retailer
The

UK

online grocery market will be worth £14.6B by 2018, up 123.7% from 2013
13% of

Australian

online consumers have purchased food, groceries, or alcohol online

U.S.

online food and beverage sales will reach $8.8B in 2016, up from $4.4B in 2011
60 % of all supermarket customers want to check product information on their Smartphone.
36 % of all supermarket customers prefer to shop using a dedicated app.
Gourmet Food Company Boosts Online Revenues by 39%.
Industry Specific Solutions For Food Beverage Store Development
Upgrade Operational Efficiency – Enhance operational efficiency and amplify productivity with quick order entry, effective pricing options, advanced routing, delivery and loading plans and improved data integrity with online store development.
Maintain Food Safety & Compliance – Maintain FDA, USDA COOL, HACCP & SQF compliance, prepare for possible recalls and meet growing demands of consumers without eschewing food quality or service with food products store development.
Manage Inventory in Real-Time – Manage your inventory with real-time data to lessen excess inventory, evade stock-outs, quickly locate inventory, decrease returns, reduce inaccurate order fulfillment and manage catch weight inventory with appropriate Magento web development. Hire experienced and expert food & beverage Theme Designer, online store designer or food & beverage Theme Developer to avail the custom solutions for retailer Store you are looking for.
Boost Customer and Vendor Experiences – Helps your customer and vendor experiences by creating a linked system for managing sales, marketing and customer service information with Ecommerce retail store development for food and beverages.
Spread out to Big Box Retailers – Expand your business to big box retailers like Wal-Mart and Target by obeying their trade necessities and implementing Electronic Data Interchange (EDI) solutions for the food and beverage industry. You can just opt for Custom Solutions for retailer Store for personalized services to simplify and amplify your Ecommerce for Food & Beverage.
Collaborate with Your Customers – With a synchronized Ecommerce for Food & Beverage, meet your customers through an incorporated web portal and deliver quality services.
Showcase Your Products Online – Spread your products on the World Wide Web and reach new markets through integrated Ecommerce for Food & Beverage or Ecommerce for retailer.
Take a glimpse of one such example of online food store development – Expat Food Hall
How Can Online Food Store Designer Help?
Unquestionably food and beverage companies face lots of challenges from fulfilling customer requests to modifying products to gratify consumer experience. Having ecommerce for Food & Beverage in place is a must to resourcefully manage supply chains and stay forward in a transitional environment. You can hire ecommerce developer for food & drink store who can provide you with industry specific solutions. To boot you can also opt for custom solutions for retailer store, if you have ideas or believed abstraction to design a successful online store.
Hiremagentodeveloper proffers industry specific solutions to enable your food and beverage business to better meet customer directives, simplify business processes, respond promptly to changes and opportunities, collaborate on inventory availability with customers and suppliers and manage diversified promotions. This all would eventually help to improve customer satisfaction and performing margins. At Hiremagentodeveloper, we have a cluster of food & beverage Theme Designer, food & beverage Store Designer & food & beverage Theme Developer to choose from. Our magento services are competent for online food store development with avant-garde technology & excellent quality.
Hope the above bit about online food store development & Ecommerce retail store development proves to be purposive for you.
Get in touch with us for any query you have.