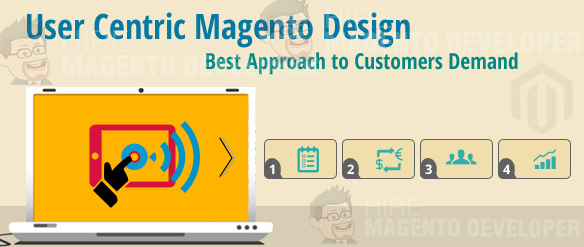 User Centric Magento Design- An Optimized eCommerce Solution
The term "User Centric" with respect to web design refers to creating a website or an eCommerce store that completely focuses on the wants and needs of the customers. Customer focus has always been the backbone of the web economy. The Web has the ability to change the dynamics of the bond between the organization and the user in which the user is empowered and more in control.
Most organizations aren't eying their goals on customers but are focusing more on themselves and implementing such an organization-centric approach, always leads to failure.
Self eccentric organizations with no customer centric approach are destined to fail. Websites with a user experience design or user interface design have more potential to succeed and Magento can make a vital contribution to the success of a user-friendly eCommerce store.
Compelling Benefits Of a User Centric Magento Design
Having an eCommerce store does not guarantee you global exposure and immediate results; however, if your magento eCommerce design is well-defined, attractive and intuitive, visitors will automatically flock over your website and get converted into loyal customers. But for that you require a customer centric web design that can accentuate the overall look and feel of your eCommerce store by hiring magento designer.
Gain a Friendly Image
For kick-starters, a user experience design is the best approach as it reflects the image of your business. For instance, let' say that if a customer is searching for something specific like an electronic gadget or brand name tools, the appearance of the website should be such that it draws him or her in.
Get What You Need
If your eCommerce website is huge and is offering number of online products with different information, it should be easy-to-navigate and must have excellent searching with multiple options for resolving search results, because sometimes a site that is not organized can frustrate the user and as a result he or she moves on to your competitors' sites.
Conversion
A website with user interface design can increase conversion rate that is a sale is made, a request for more information about the services or products or registration is done.
Frequent Customers
If you create a website that is customer centric, properly organized, easily navigable and search-able, customers will be forced to come to your website again and again. Users will be motivated to make a purchase every time they visit your site and for a good design they can possibly recommend your website to others.
Accessibility
Understanding the needs of your users and how they are likely to access your web content will enable your to create a website that is most suitable for them. You may also want to provide mobile applications to enhance the customer experience on those devices. Also ensure that your site is accessible to screen readers and contains screen-readable descriptions of the images on the page for visually impaired users.
Give a Responsive Touch To Your Customer Centric Web Design
The above highlighted points are some of the customer centric reasons for developing a user friendly eCommerce store, but if you decide to go responsive, you are acknowledging with a device agnostic approach and offering the usability for any device that is developed for the future. As a Magento development Company we offer quality magento services and are more passionate about responsive web design. We are aware that in forthcoming days 'Responsive' will be a commonplace. We have done a number of projects on responsive website design and if you are looking to move your business ahead, feel free to get in touch with us to start planning.