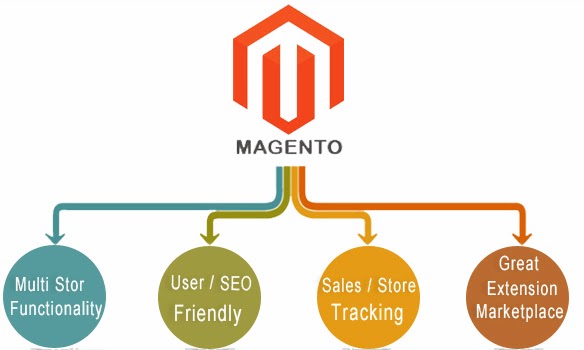 WHY USE MAGENTO PLATFORM?
The answer to this Million Dollar Question is not one but many. People are very agnostic when it comes to eCommerce. In the recent years, Magento has been a hot favorite eCommerce platform for number of start-ups and its popularity continues to grow rapidly. When it comes to choosing an eCommerce platforms for your online store development, Magento by far wins the race on account of the customization options it offers. The system covers all aspects a serious store owner would be concerned about.
Reason to Use Magento for ecommerce store development:
If you want to build an eCommerce store with limited budget, Magento is definitely the choice. Investing your precious earning on Magento will definitely prove to be the wisest decision of your life. This powerful and flexible platforms is trusted by world's leading brands including Good Year, Paul Smith, ONEIDA, etc. and above that more than 200000 retailers choose to use it. But the question is what makes them put their trust on this fast growing technology?
Open Source
Magento is an open source eCommerce platform which makes it more accessible in terms of cost, more flexible for developer and more secure. This is the key benefit of Magento over the other eCommerce platforms.
Multi-Site Functionality
This is once such great feature that makes Magento the most loveable eCommerce platform among merchants for creating a Magento Store. This awesome feature gives the advantage of creating additional websites on their own unique domain
Out-of-the-Box Features
Magento CMS offer everything that is needed to run a standard eCommerce website including customer accounts, product and catalog browsing, advanced search feature, order management, payment processing gateways (PayPal. Google Checkout, etc), shipping, marketing and promotional tools, and more.
SEO Functionality
To get you quickly ranked on the most popular web search engines, the SEO functionality of Magento has built-in, meta tags, SEO optimized descriptions, clean URLs, site navigation and clean HTML
Integration of Google Analytic and Sales and Store Tracking
Google Analytics is an important feature for advanced marketing insight. The integrated sales and store tracking feature enables to track sales, track traffic, analyzing multi store performance and report filtering by customers from one single page.
A Great Extension Market Place
Magento Connect is a market place full of extensions that help customize your Magento Go online stores and also features useful modules for Magento Community and Enterprise.
There are number of apps with review and rating that help you decide which is the best.
Ways to Gain ROI Through Magento
Whether you've just entered into the eCommerce world or upgrading to a more powerful platform, Magento is a profitable eCommerce solution. But it can be sometime difficult to compare the three version of Magento and determine whether Magento Go or Magento Community is right for you.
Campsaver is a mid-large size business and depending on their requirements, hiremagentodeveloper to create an online store using the Magento and guess what? This Magento based eCommerce website is now considered to be the best online destination for outdoor enthusiasts and generates huge sales daily due to seamless online orders and payment processing.
So here's the trick. When you consider to implement Magento for making an online shopping store, find a magento web design and development company that has Magento Certified ecommerce developer and a track record in delivering ROI through solid eCommerce business advice and great UX design.
I am sure now you are clear about why use magento for your online stores. Still if you have any doubt or query feel free to contact us