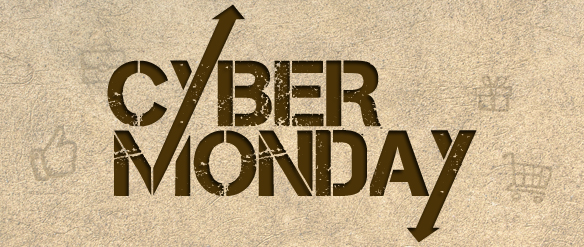 Unlike other Mondays, when many woke up to this Monday morning there was no room for Monday blues.
Q. How often does it happen?
WELL AS RARE AS HEN'S TEETH!
But trust me you wouldn't mind this form of scarcity at least as long as it brings abundance we usually crave for and that's because-
IT's Cyber Monday on December, 2nd 2013
Very quickly! What do you think most of us do on more than half of 'Cyber Monday'?
OK, I hear some saying: Warm up some turkey, kick back, and start clicking for Shopping. Fair Enough!!
Well, what makes online shopping click is the comfort that it brings at the expense of all the pain of walking down the aisle of the store you would take on days of yore. That's a deal you could kill for and why not? The best part is that it turns out to be a good deal for both consumers and businesses.
SO A WIN – WIN SITUATION FOR BOTH!
MAJOR LEAGUE FOR BUSINESSMEN WITH ECOMMERCE CARTS
By the way, it's an open secret that Cyber Monday is all propitious to the businessmen with their well geared eCommerce stores- The choice of this age businessmen.
In Latin, 'hodiernum vive diem' means live in the present. And living in present is important for any Ecommerce store to rake moolah.
On a colossal day like "Cyber Monday" astute businessmen never fail to leave an indelible impression and stats vouch for that.
KEEP AN EAGLE EYE ON:
Cyber Monday eCommerce sales are expected to reach $2.2 billion this year.
Remarkable transactions with $16.2M transaction in 2009 to $17.1M transactions in 2012.
Cyber Monday is the highest online spending day with 39% of shoppers buying.
U.S. Cyber Monday sales reached $1.46 billion last year.
WHAT A MIND BOGGLING NUMBERS?
Looking at above figures, this is a truly profit-making time for smart businessmen who well in advance are ready with their trammel nets. Out of luck are those who do not have their trammels set. Hope you happen NOT TO be one of them.
WHAT IS YOUR BUSINESS WITHOUT AN ECOMMERCE STORE?
How many of you believe in the gnomic saying "Doing the right thing at the right time".
There must be lion's share congruent to it.
Let NOT your business be statistic, out of sight, unredeemed and nowhere to be found on Cyber Monday. That would be a big business catastrophe ultimately.
While "Cyber Monday" is spreading with gigantic leaps, it is the best opportunity your Ecommerce business can cash in on for more aggrandized returns.
And all you need is an Enterprise Level Magento eCommerce store
CONTRARY TO POPULAR BELIEF- It is not that expensive to build one, BUT!! It is a hearculean task to find a certified magento developer who knows his game.
Hiremagentodeveloper is an organization that holds Magento Bronze Partnership and 20+ Magento Certified eCommerce Developer.
PICK THE APPROPRIATE WITHOUT FURTHER ADO
Magento Web Development
Magento Integration and Maintenance
Landing Page Design
Custom Magento Theme Design and Development
Magento Extension Plugins Development
PSD to Magento Conversion
Magento Mobile Application & website design
Store management back-end training
WHAT OTHER OPTIONS DO I HAVE?
You can also get your Ecommerce store on various platforms such as zen cart, Prestashop, X-cart, osCommerce & Ubercart.
And before I forget you can demand your free quote. So, kudos to WWW!
Believe this post clears all your ticklish thoughts about eCommerce Store Development.
Got Questions? Feel Free to Contact Us
Keep Coming! There is a lot to come.