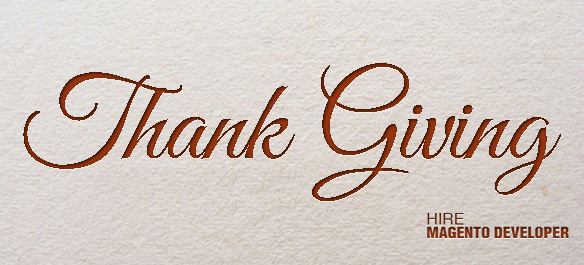 Elevate your Business Spirits with Magento Enterprise ECommerce this Thanksgiving
Thanksgiving holiday aroma is already in the air and you are all amped up to say grace and stuff yourself on turkey and all the trimmings with your near and dear ones. And needless to mention 'Shop till you drop' that's on the cards.
But that would be an antiquated thanksgiving of 1984, Right? Yeah I know !
Bricks and clicks have completely outmaneuvered the bricks and mortars. And if you are just a brick and mortar store like many others; being on the receiving end, noone understands the pain better than you.
Not to freak you out, but it is high time you transform your business into eCommerce
If stats are of any importance, here are some to enlighten you-
Holiday Spending 2013
Business is all about making wise decisions that help you in the long run and when it comes to your enterprise, it means stacks. So, they need to be even wiser.
The Sixty Four Thousand Dollar Questions-
Many retailers hold up their plans because of the esoteric online software technology that leaves the laymen baffled due to questions such as-
Which software should be used?
What are the makings (features and functions) of a good online e commerce store rendering smooth user experience?
Where will I get the resource from?
Many retailers are often curious about the reason-ability behind using Magento Enterprise Edition with an annual fee when free Magento community edition is much more reasonable.
Magento Enterprise Edition means SERIOUS BUSINESS. That's why it is apt for those striving out there to make it to the big league.
Reason #1

- Availability of More Functions in Magento Enterprise Version-

Call it a smug if you want, but if there is a tool that's self sufficient it is indeed Magento Enterprise Edition and there are reasons.

Magento Enterprise's features not only help boost revenue, but also simplify content management along with improving average sales. Thanks to the customization flexibility it offers.
Avg. Sales Revenue can be improved by the following features
Rich Merchandizing Suite
Reward Points System
Store Points
Gift Registeries
Avg. Revenue can be boosted by the following features-
Private (Club) Sales which includes events and invitations as well as granting site access permissions.
Customer Segmentation
Price and Promotional Rules
Enhanced Content Management System (CMS+) allows you to effectively manage your content such as images, static content, advertisements etc. This all can be done without programming expertise.
Reason #2

- Magento Enterprise Improves Site Performance

It is ultra important that your site performs well as traffic to your site increases. More traffic means, slower loading times which is enough to drive many customers away. Besides, penalty levied by search engines is absolutely unaffordable. Magento Enterprise's full page caching eliminates slow loading.
Reason #3

- Seamless and Easy Upgrade

The upgrade path is uncomplicated and seamless as Magento Enterprise features are built in the core which means that upgrading on the release of latest additions becomes hassle-free.
The Most Crucial Step- Hiring an Enterprise Magento Developer
Finding an expert Magento developer who can develop an Enterprise Magento Ecommerce store is the real litmus test of your business acuity, especially with sophomoric freelancers and companies boasting loud for attention; however, keeping few things in mind will make your hunt easy.
Hire a Magento Developer from an organization possessing
Certified Magento Developers
Magento Partnership
Hiremagentodeveloper is such an establishment with 20+ certified Magento Developers with half a decade of experience in Magento Design and Development who have developed Enterprise Magento stores garnering megabucks. Have a look-
If you have any doubts, queries or suggestions, go ahead and Contact Us.
Keep Looking for More.
Happy Thanksgiving !