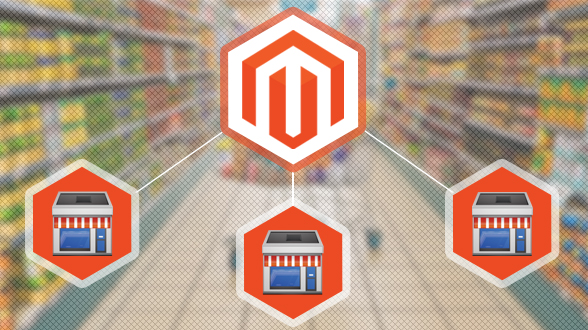 Are you looking to extend your online visibility to some another country or do you want to release another brand within the market? Well, then I would say that Magento eCommerce is an excellent platform to use and its multi store functionality is a perfect solution to expand your eCommerce coverage. I know it sounds very much interesting and you're getting impatient, so let's get started.
Magento Multi Store Development
One of the most outstanding and highly advanced features of Magento for many merchants is its ability to run multiple stores from one admin interface. This is definitely a blessing for store owners that would like to sell products on different domains. Just with single installation one can have a control over number of stores from a single administration area.
What is the concept all about?
The main website is the parent website
The parent website has multiple child websites
Each of the child website is linked to the parent
So with the help of the parent website you are able to manage different stores and products from one admin panel.
Example to understand the Multi Store Functionality Concept
Imagine you want to sell Furniture, Apparel and electronic goods. All these businesses are different. You have thousands of products and it becomes very difficult to manage with a single website. So it becomes a necessity to bifurcate the businesses with three websites and one parent website. It seems to be three different businesses but actually controlled by a single backend. With this functionality you can share customer data and order data between three websites by turning on configuration option.
What are the bonuses you get?
Each store has its own URL
Distinct Designs for each store
Set of products and prices specific to varying customer types
Multiple languages
SEO-Friendly
Analytics and Reporting
Different Payment and Shipping methods per county per brand
Easy Catalog Management/Catalog Browsing
Simple Product Browsing
Separate Checkout for each store
What is the basic terminology?
Global: Includes Default Settings and Information which are used for online storefronts
Website: Collection of stores that share customer accounts, orders & shopping carts
Store: Collection of store views pointing to the same root category in the catalo
Store view: Visual representation of the stores
These terminologies will make more sense once you them in action.
What can Hiremagentodeveloper do for you?
With the unlimited range of products being offered on e-stores these days, online stores are demanding an effective management system that provides customers great shopping experience. Hiremagentodeveloper breaks the chain of your worries by offering magento development services with Certified Magento developer that fulfills the rising demands of the current age and can also earn you good profit. Are you ready to hiring Magento Developer!
If you are already having a Magento site and thinking to expand your business using the Multi-store functionality, we will be happy to get into depth discuss about your goals and objective so just Drop us a Line!
Share your thoughts or Comment